I'm sharing how I care for our furniture that my kids take over as part of a sponsored post for Socialstars. #ZepSocialstars
It's easy to say that kids start taking over the house quickly as they grow up. From all their toys and games spread throughout to their favorite spots they claim as their own, I can tell you my boys have already taken over around here. No matter what room you walk into, you will find traces of at least one of them.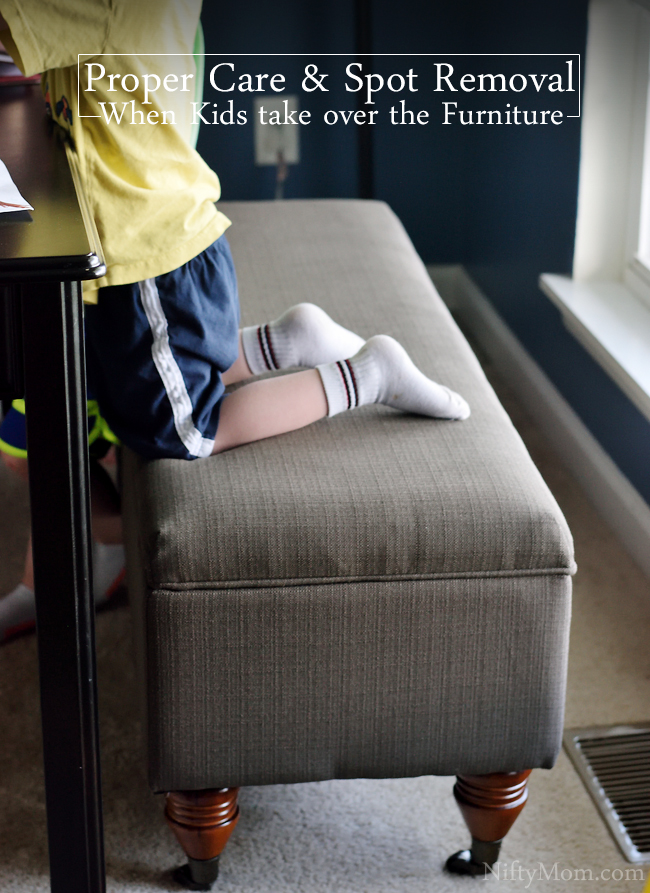 These traces are toys, clothing, their artwork, messes, drawings on the wall (yes, they did get to one spot), and even pesky stains here and there. When we moved into our house over 3 years ago, we were pretty strict about where food and drinks were allowed. However, it wasn't long before our third son was born, days got crazier and we let our guard down (for the most part).
Then last year I started working from home more often. My job became more than just a hobby I could do while the kids napped. I had to find ways to work through the day while doing activities with them. When we did our home office makeover with new furniture, plenty of desk space was necessary. Even though each one has their own desk in their rooms, they seemed to have claimed one of the office desks immediately.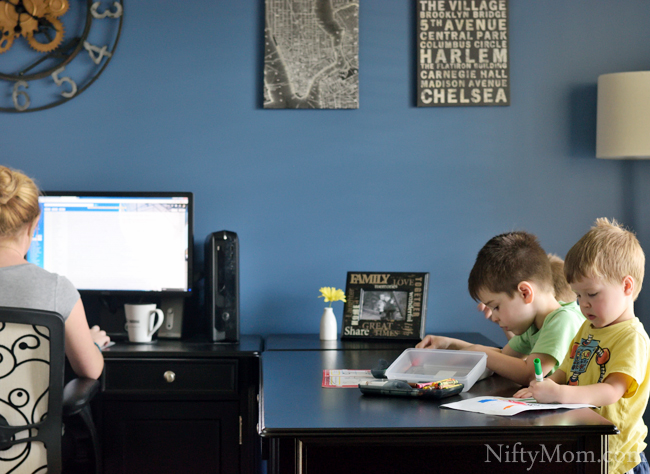 They would pull up chairs from the dining room and make themselves all comfy. The hunt for the perfect bench began. However, knowing the little ones were going to be using it, I had a hard time deciding what type of material the bench seat should be made of. I knew I would be wiping up spills, markings, and stains almost daily. That's inevitable.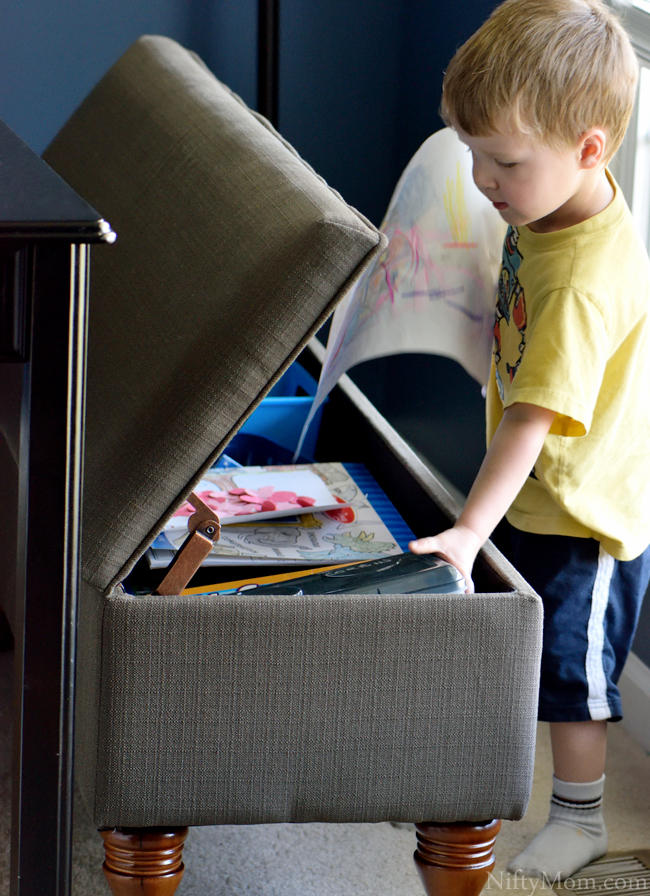 But when I saw a darker fabric storage bench, I knew it was the one. Regardless of the messes, the storage and color was fitting for our home.
It only took one day for they kids to fill it with puzzles, markers, and anything they could fit inside. They immediately called it 'theirs'. It also didn't take long for them to start bringing snacks into the office while they 'work'. My boys don't really slow down and spills happen more often than not.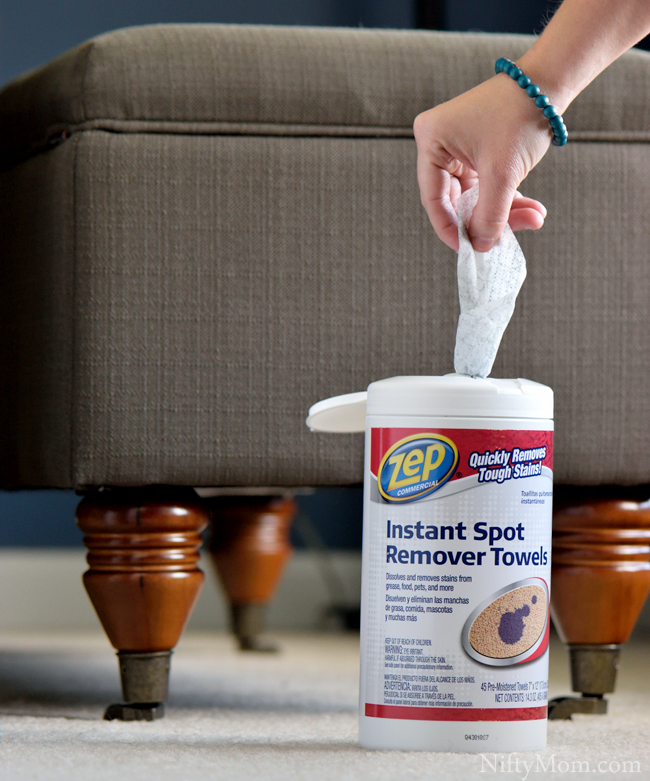 To maintain 'my' bench and keep it looking new in my office, I have to take proper care of it. The best way I have found to do so is by keeping Zep Instant Spot Remover Towels in my desk. I mean, doesn't everyone keep cleaners in their desk?
With them right there, I can access them easily and they are convenient for on-the-spot treatment. I don't have to run to the kitchen for towels, a spray cleaner, and more towels. It gets the job done without the hassle.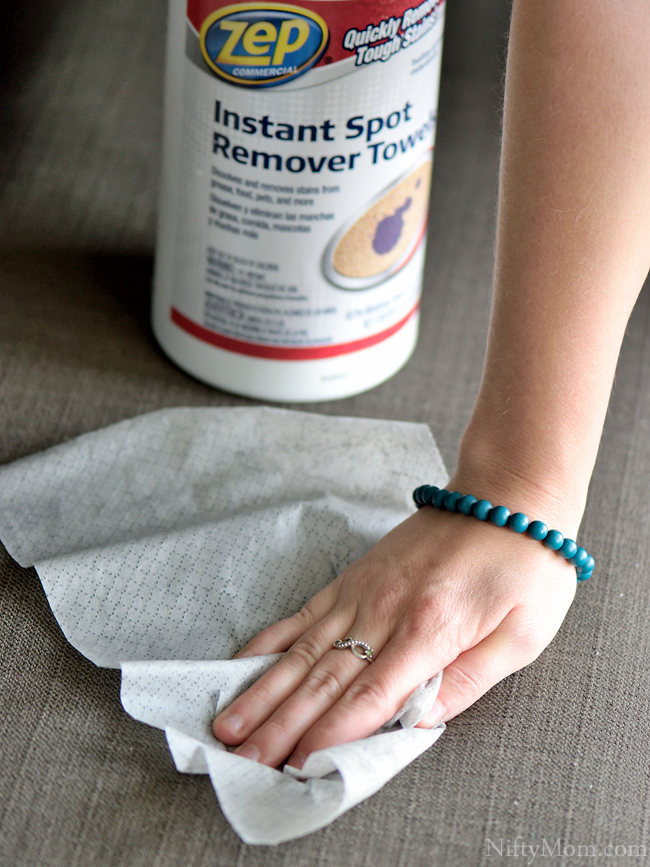 Yesterday when my three year old decorated the bench with applesauce, I just pulled out one of the strong dual texture moistened towels and blotted the stain away. They are effective on oil, food, pet stains, grease, tar and more. It doesn't take long for it to dissolve and absorb the stains. Not only do they help upkeep of the bench, but they also remove stains on the carpet and rugs.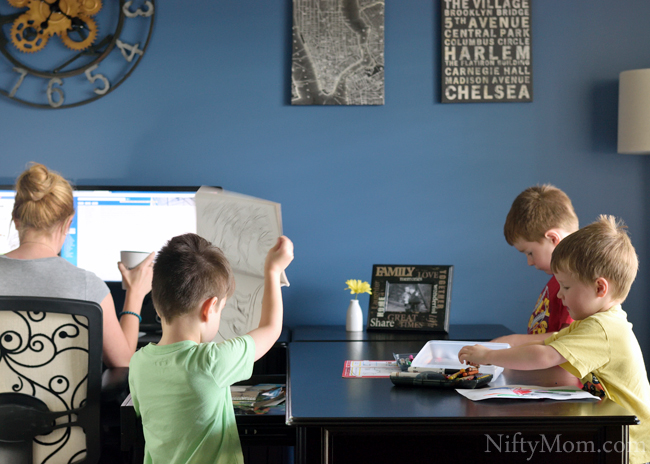 With summer break already starting next week (where did the year go?), I know the chaos is just going to get more chaotic. I wouldn't trade it in for the world though. However, I better head to Home Depot and stock up on some more Zep Instant Spot Remover Towels for just $8.87. They won't dry out in the canisters, so it doesn't hurt to have more than less.
How do you keep up with your furniture the kids take over?