Hosting a movie night party makes a perfect evening in on the chilly winter weekends. Grab the kids, neighbors, friends and/or family members, and stay in for snacks and a movie marathon. While this movie night party theme is sponsored by Hobby Lobby, all opinions are 100% my own.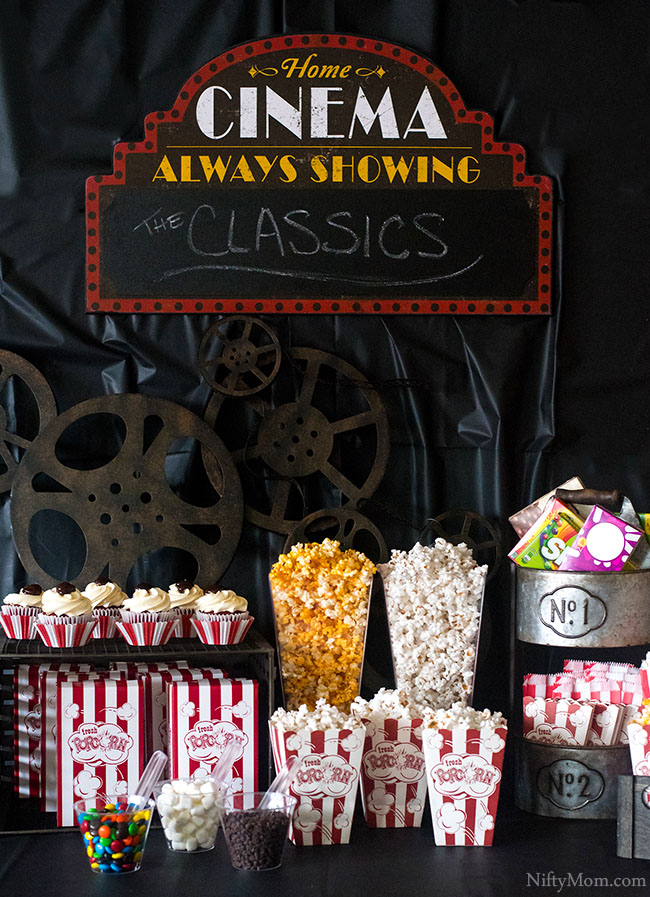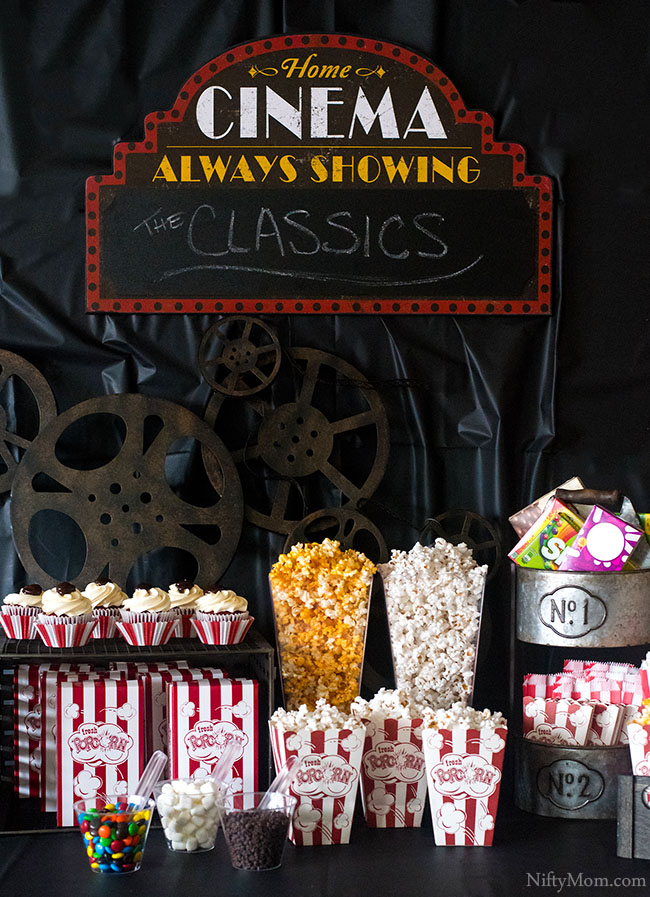 After over a year in progress, we are just weeks away from having our basement completely finished. Complete with a bar, games and T.V. area with plenty of seating. While we are already planning some sports viewing parties, I have movie night parties on my mind. Stream some classics or a new movie and have a fun party with friends.
For inspiration for our basement and parties, I headed to Hobby Lobby last week. Our walls are empty and we need to start picking out decor. Their movie decor section is extensive, but for now, I settled on an antique bronze metal movie reel and home cinema chalkboard wall decor. I also got a few metal decor trays and bins that can double as party table items. Of course, I also grab party supplies for our movie night parties (there will be plenty coming soon).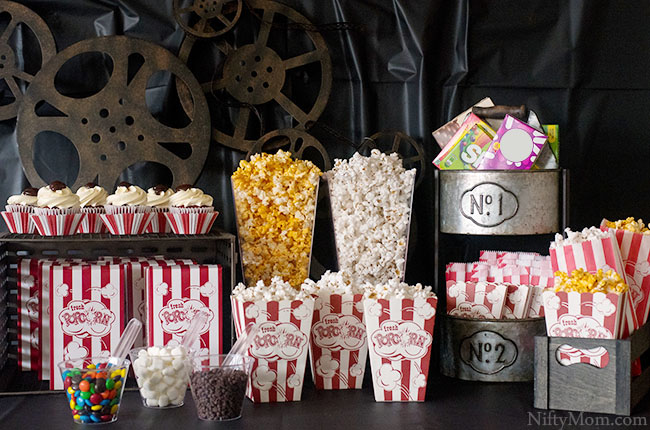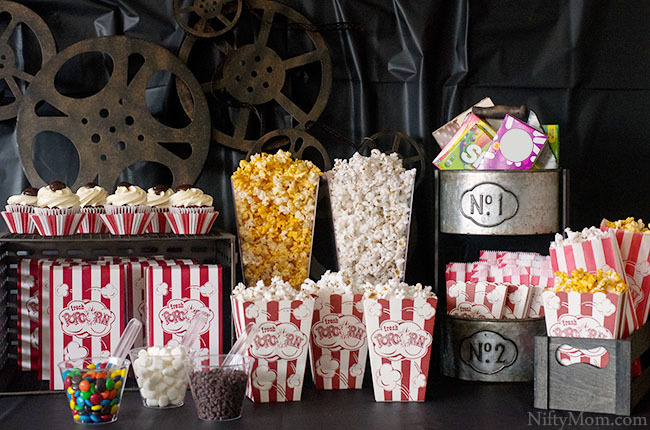 From the party supplies section, here are the items that really complete our movie night setup:
Black Rectangle Solid Plastic Table Cover (54″ x 108″) – To get that dark movie theater feel, I cut the table cover in half. One half was used to cover the table and the other as a backdrop.
Clear Polystyrene Tumblers – These are great for holding candies and small food that can be added into popcorn.
Clear Mini Tongs (4 1/2″) – Great for keeping food germ-free so guests can grab their food easily without touching it.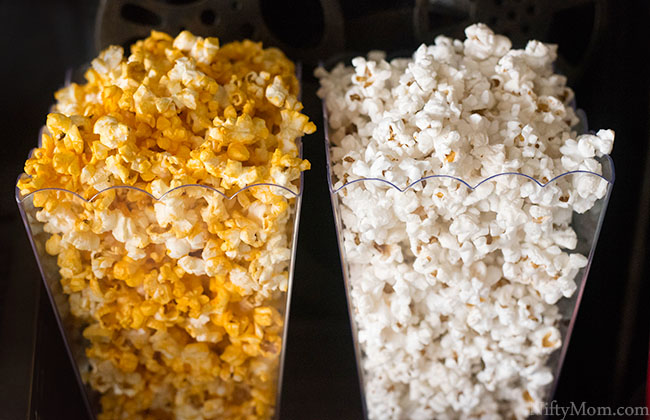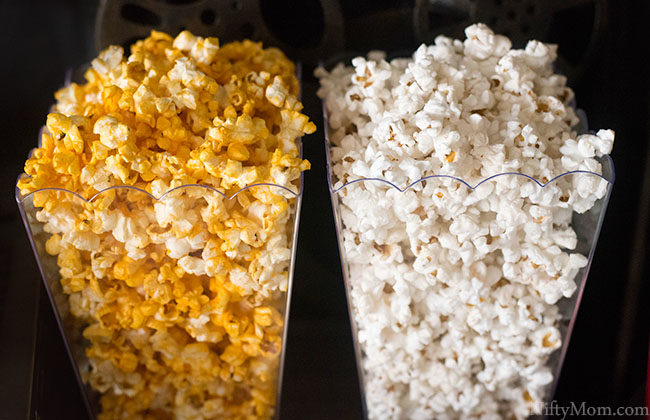 7 1/2″ Tall Clear Scalloped Containers – A simple container that looks great on any party table, but is wonderful for popcorn. I like to offer different varieties of popcorn, so with the clear containers, it is easy to see the options.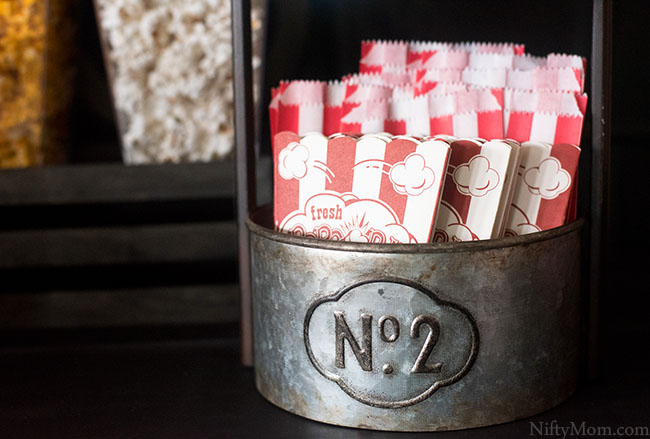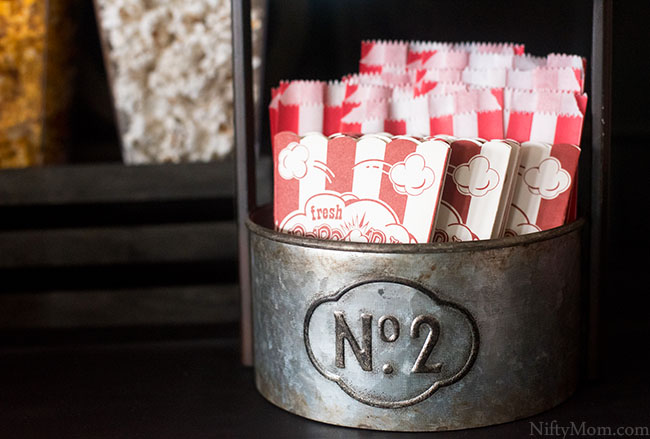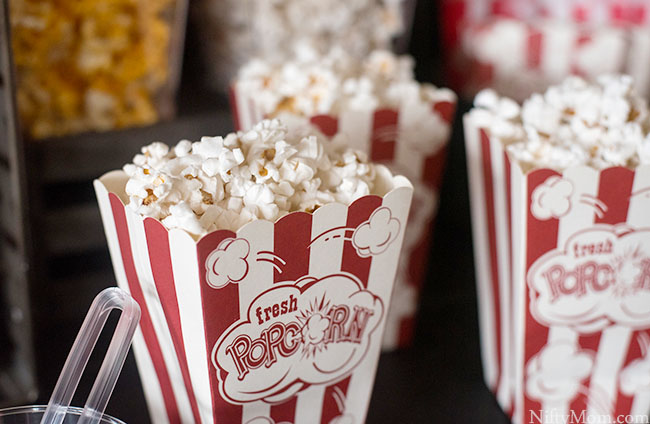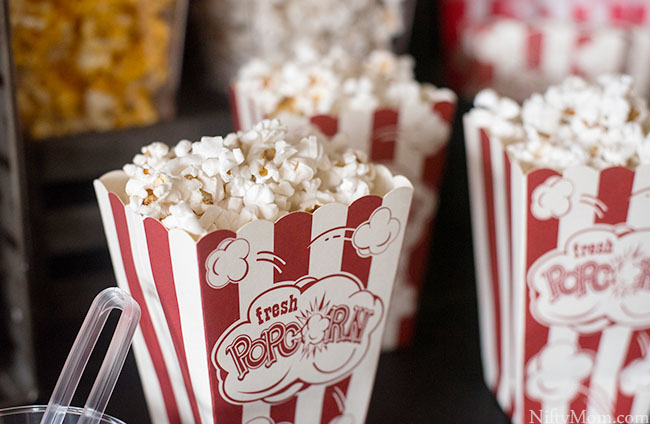 Small 5 1/4″ Tall Popcorn Boxes – The popcorn boxes are easier to use when adding things into the popcorn.
Red & White Striped Popcorn Bags – The popcorn bags hold less popcorn, so it's great to give guests a variety of options.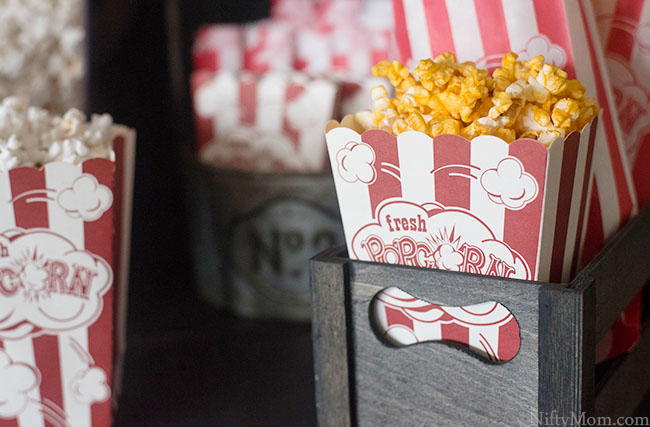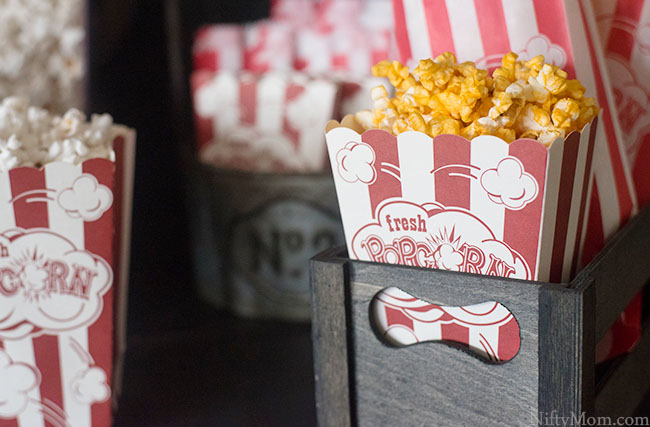 Small Crate Box – I used one to hold some popcorn bags and one larger one under the popcorn containers for height.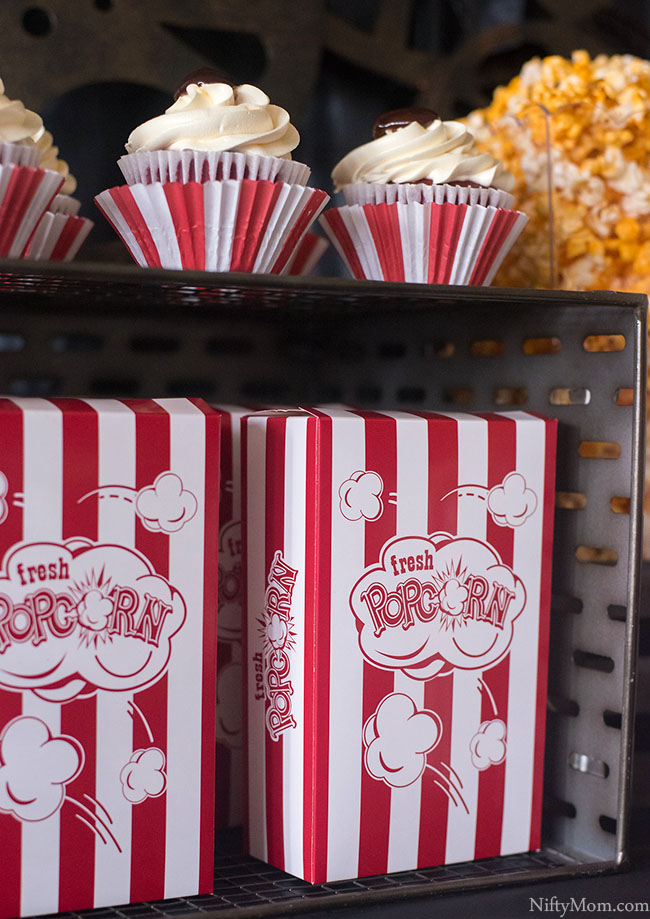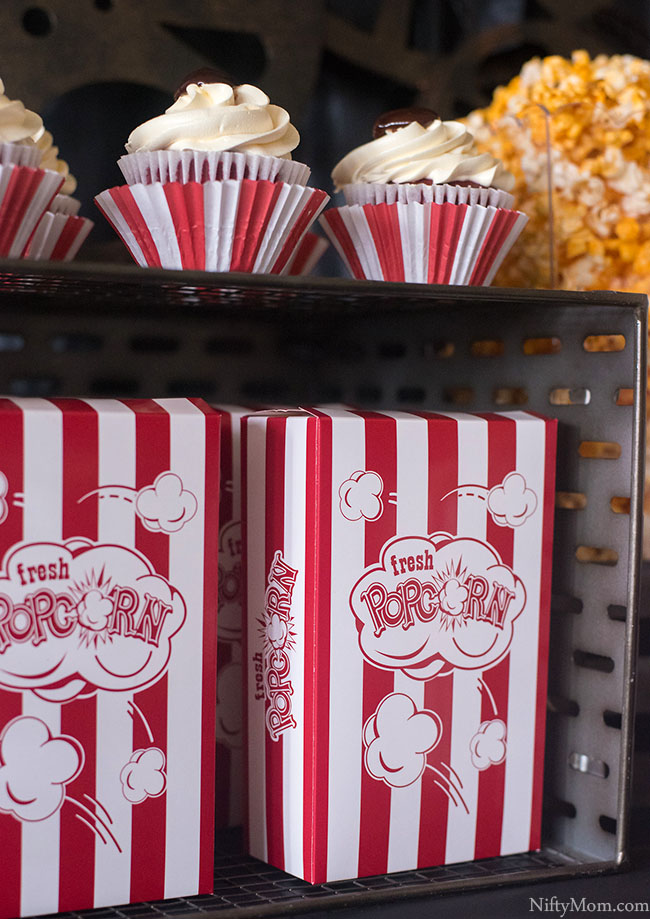 Large Popcorn Boxes – I think these vintage boxes look fabulous. They work great for having popcorn prepared before guests arrive and can be used as a favor for guests can take home.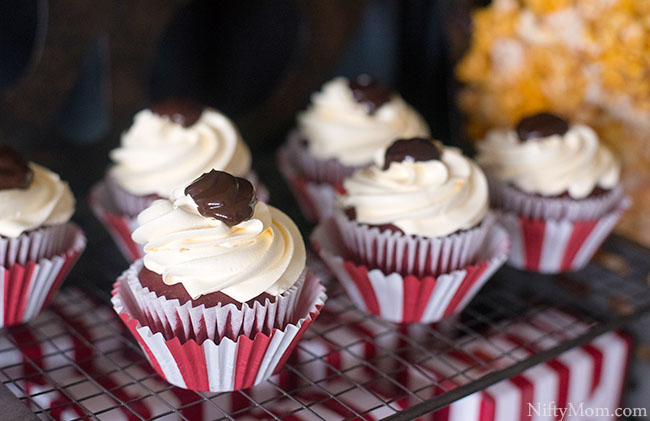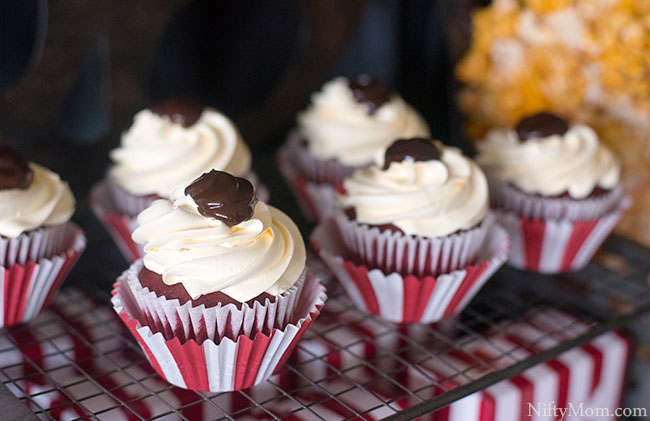 Red & White Striped Carnival Baking Cups – Found in the carnival party section, I thought the cups fit perfect with the movie theme. I added some store-bought red velvet cupcakes, as they also perfectly fit the look of the table.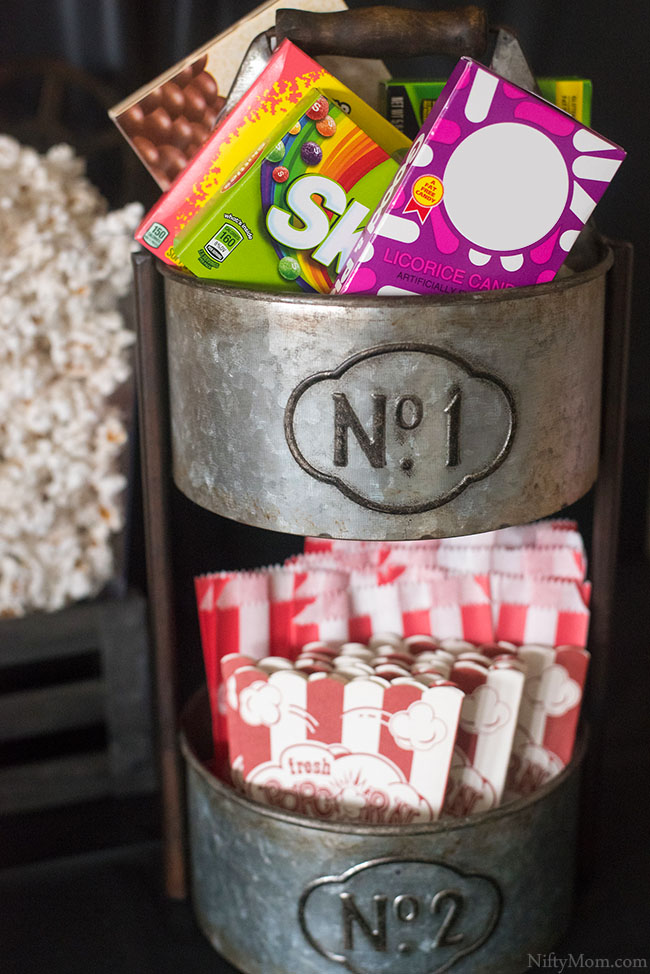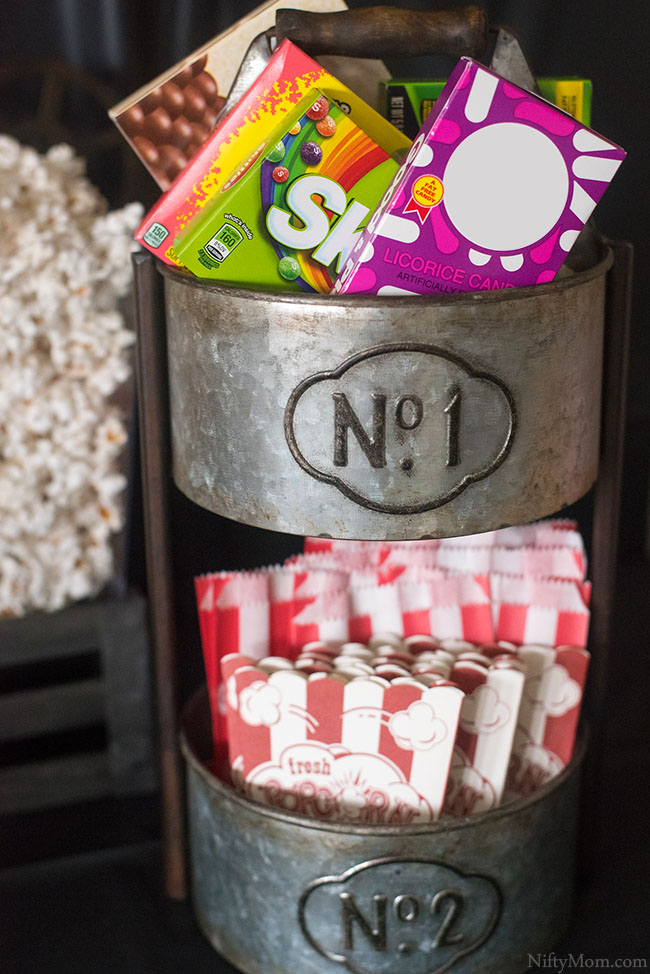 When I was checking out at Hobby Lobby, there was a large variety of candy boxes, so I purchased ten to keep in the basement for movie nights. They fit nicely in the 2-tiered tray I got, along with extra popcorn bags/boxes.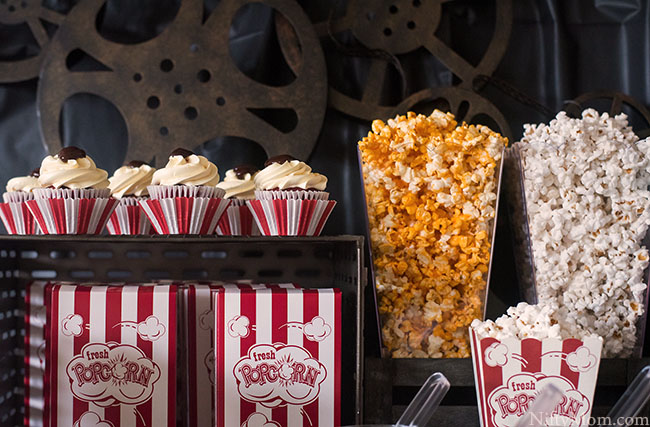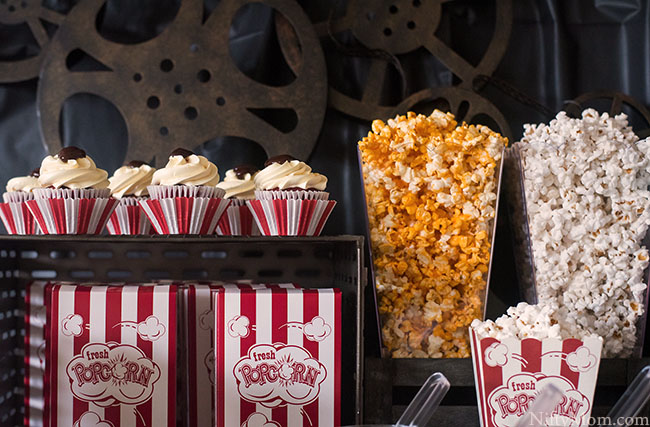 A few important things to remember when setting up your own movie night party:
Pick a color scheme. I went with a black, red and white vintage/classic feel. This is to match my basement decor we are using. However Hobby Lobby has a lot of great black and gold decor & supplies that would make a great setup, too. Another idea is to have your scheme match.
Have a variety of popcorn available to guests.
Include boxes of popcorn filled, ready to eat.
Small food items to mix into the popcorn is great for guests to personalize their movie snack.
Put out a selection of candy for guests to enjoy.
Utilize home decor to complete the look of the table.
Have things at different heights for easy access and visual appeal.
Use Hobby Lobby's coupon for additional savings!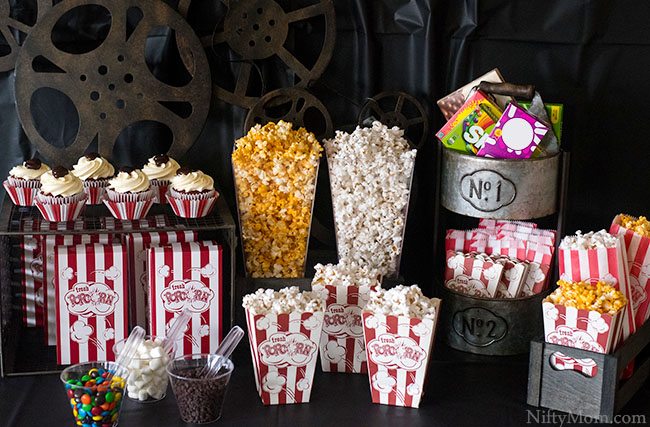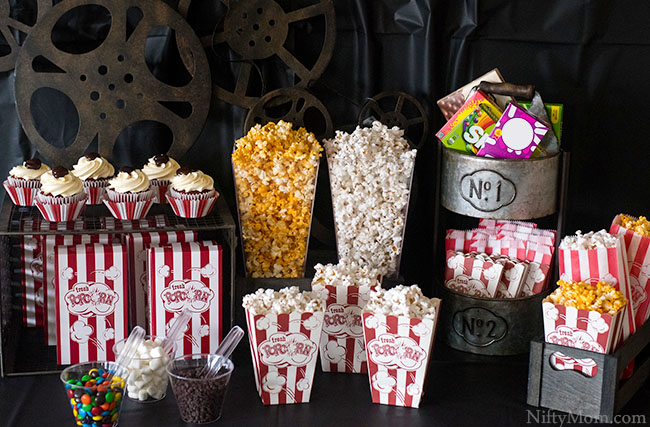 What do you like to have at your party movie nights?
This is a sponsored conversation written by me on behalf of Hobby Lobby. The opinions and text are all mine.