Using items we have around the house for pretend play can really get my kids' creative imaginations flowing. If you have Hot Wheels and Monster Truck lovers in your home too, make this easy DIY Monster Truck arena to create hours of fun. While this project is sponsored by Hot Wheels, all opinions are my own.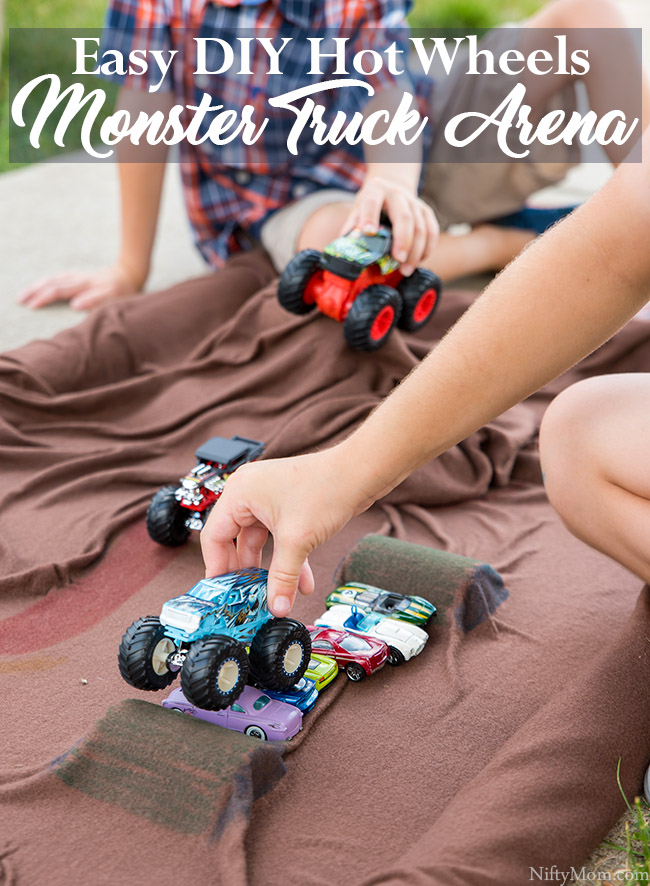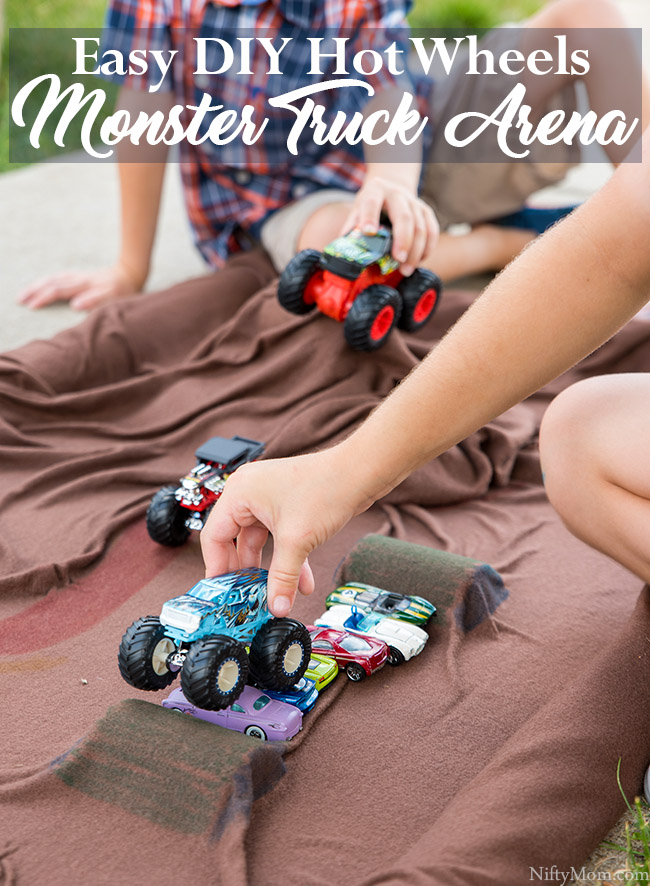 Hot Wheels have been a huge part of our family life since having kids. Actually, even before that. My husband has collected a variety Hot Wheels products since he was a kid. Now with three boys, the Hot Wheels collections in our house are huge.
The boys have hundreds upon hundreds of Hot Wheels cars. To go along with all those cars, they have car cases, track sets, wall tracks, stunt toys and more.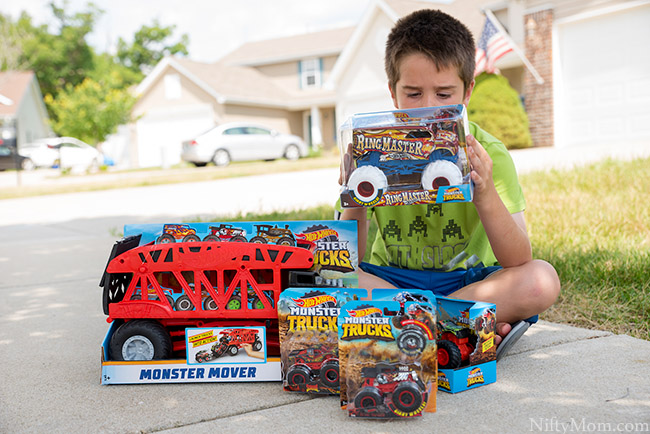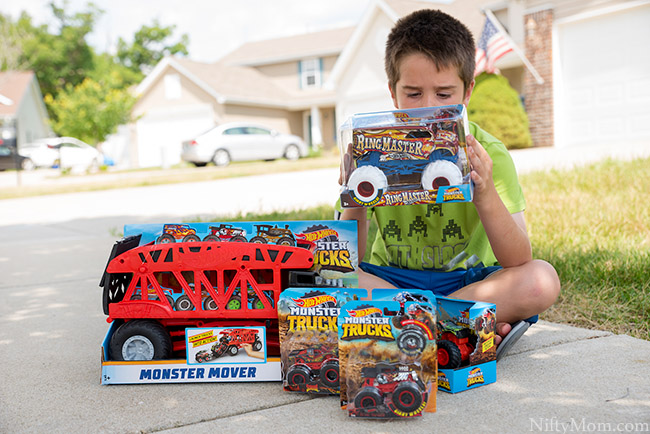 That doesn't mean there isn't room for more though! Another great collection of Hot Wheels: Monster Trucks. They are bigger and better for crashing and smashing and are durable through all the crazy fun play. My kids can be rough with cars/trucks, and these are very durable.
To get the kids out of the house for a little bit, we gathered some of our new Monster Trucks along with supplies to make a Monster Truck arena. We have a lot of cardboard boxes, so we decided to use the large side of a box to make our own arena.
How to Make a Monster Truck Arena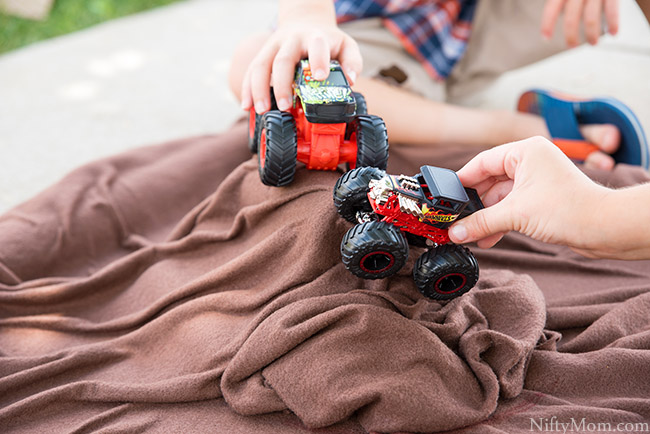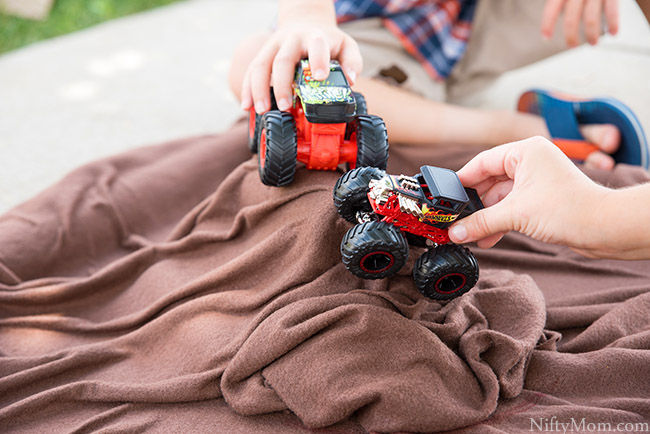 Supplies:
Large cardboard piece(s)
Pool noodles (could also use newspapers, cardboard pieces, plastic jugs or scrap fabrics)
Spray adhesive
Scissors
2-3 yards of brown felt (or fleece)
Markers: permanent, paint or fabric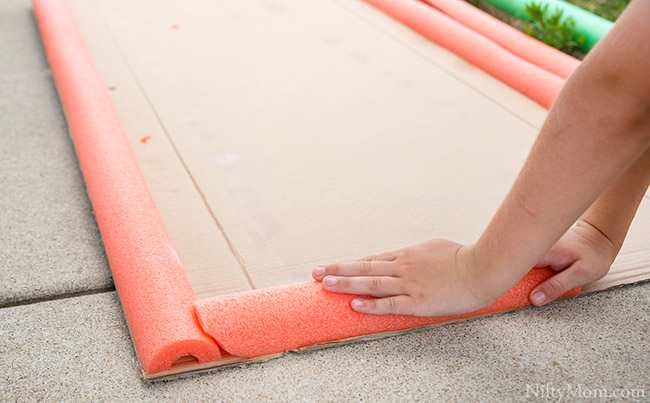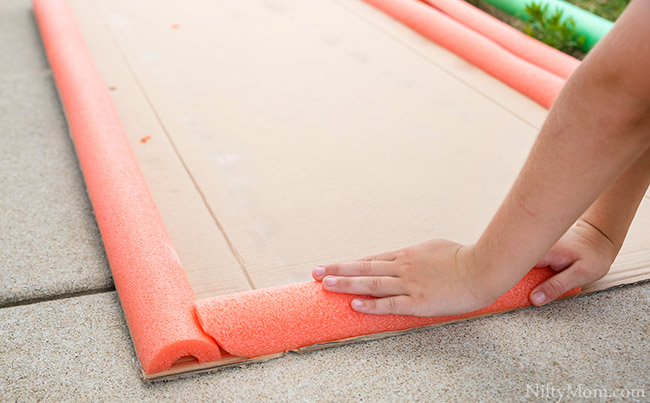 Cut out a large piece of cardboard from a large box. If needed, use large packing tape to connect more than one piece of cardboard, creating a larger base.
Cut one or two pool noodles in half, lengthwise, so they are a half circle. Then, cut them down to fit around the outside of the base and use spray adhesive to attach, as shown above. We left an opening on one end to use as an entrance for the vehicles.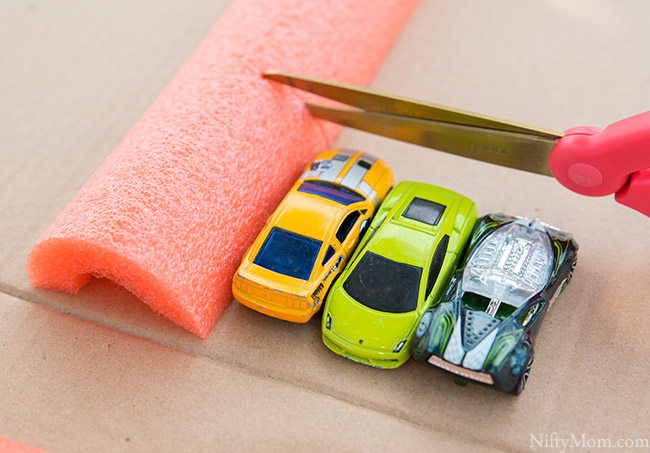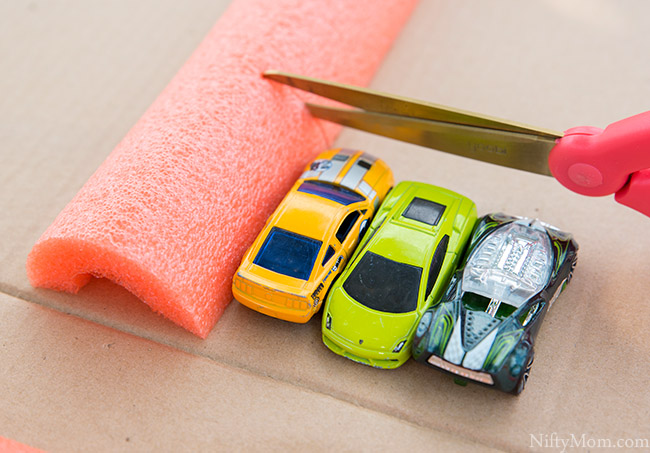 To make a car jump, lay Hot Wheels cars out to determine the size and length you want it to be. Glue down pieces of a pool noodle on each side of the cars.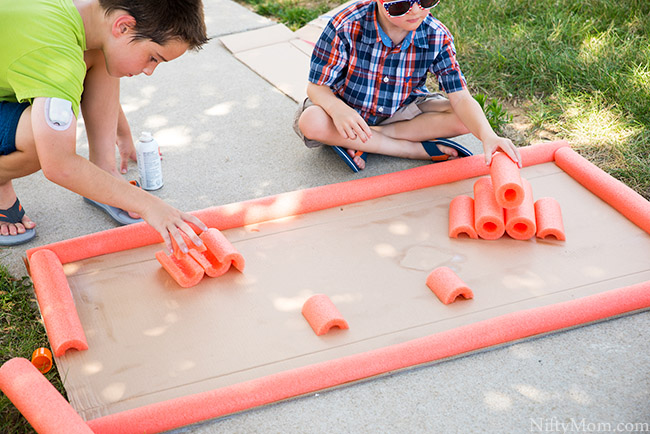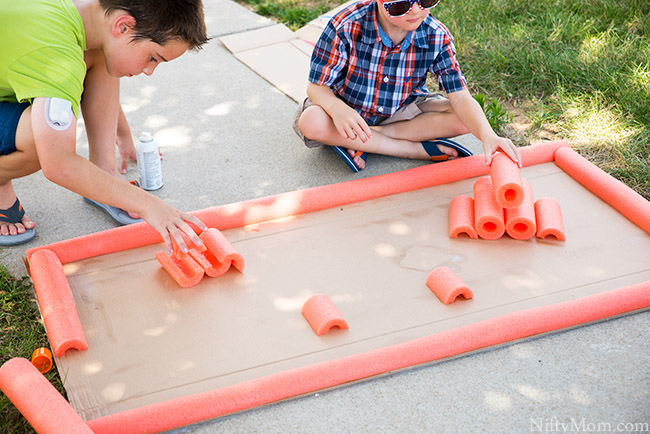 Decide where you want ramps and 'dirt piles'. We used different sized pool noodle pieces, but you can also use cardboard pieces, crumpled newspaper (or clean paper trash), plastic jug pieces, etc. Really anything lightweight with dimension. The color and look doesn't matter, because it will be covered.
Once you have the layout you want determined, be sure to attach each piece to the base.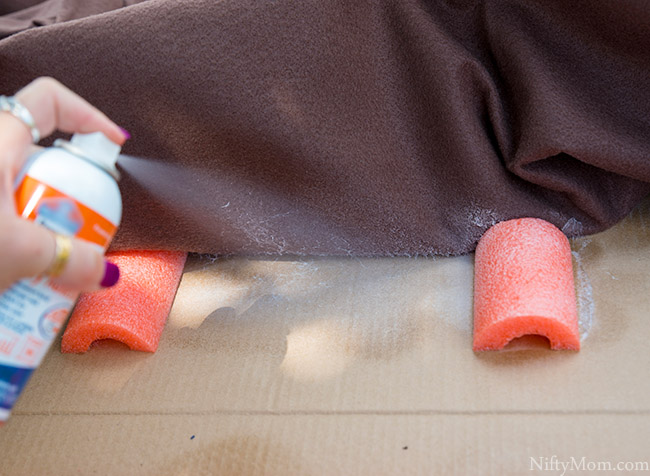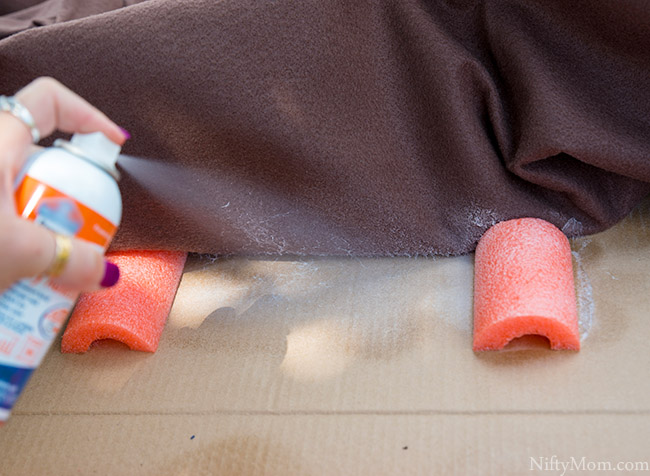 Next, cover the whole base and components with brown felt (or fleece).
It works best to start in the middle, working your way to the ends.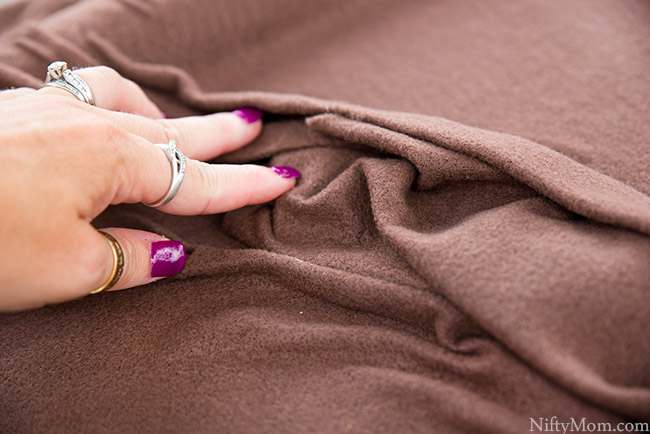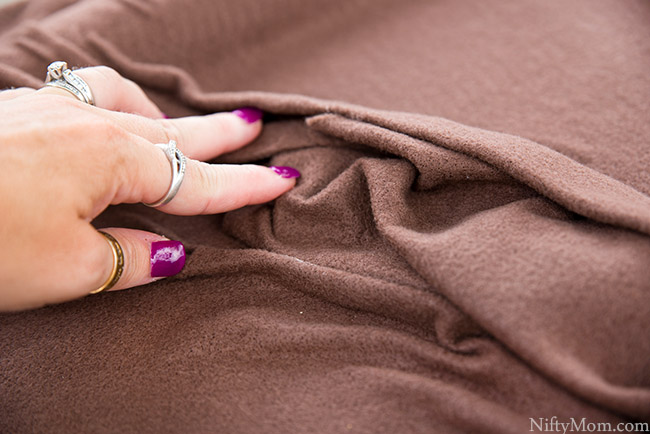 Don't worry about getting it too smooth. Wrinkles are good because we are pretending it is a dirt arena.
Once it is all attached, trim the edges and glue down the fabric around the bottom edges.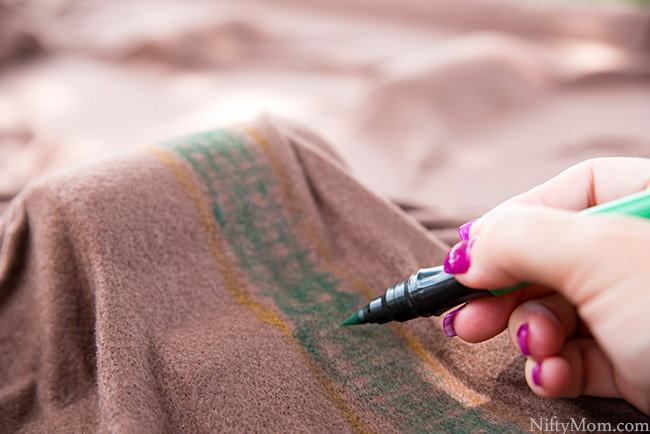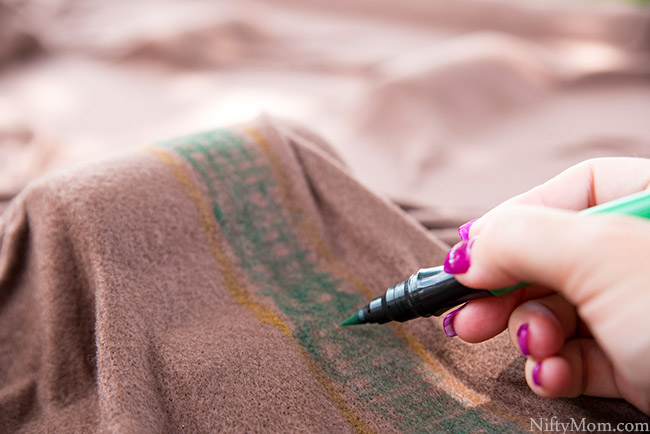 If you would like, add some marking on the ramp areas.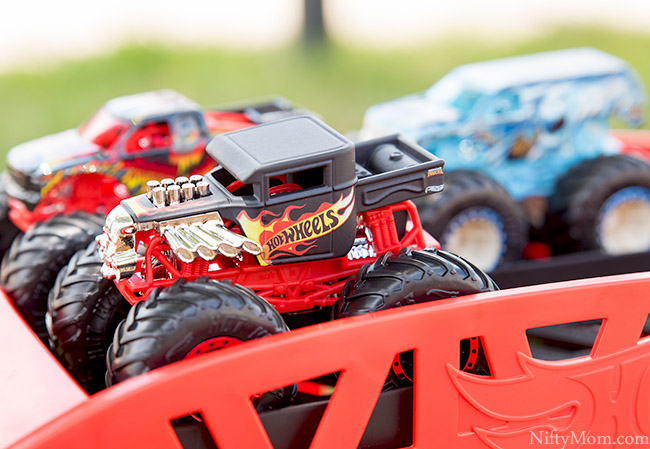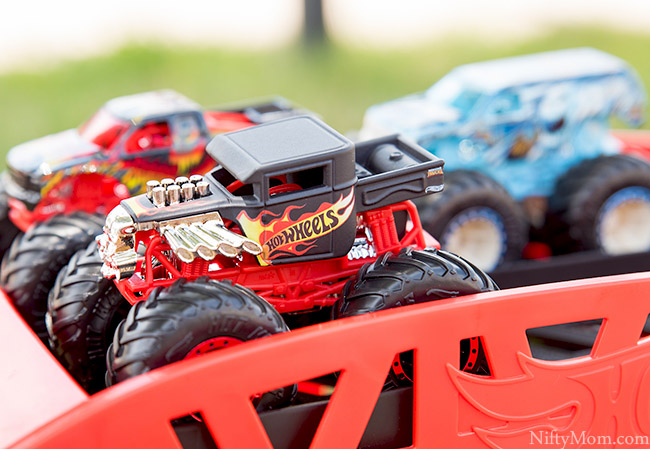 Time to let the kids grab their Hot Wheels Monster Trucks and start playing!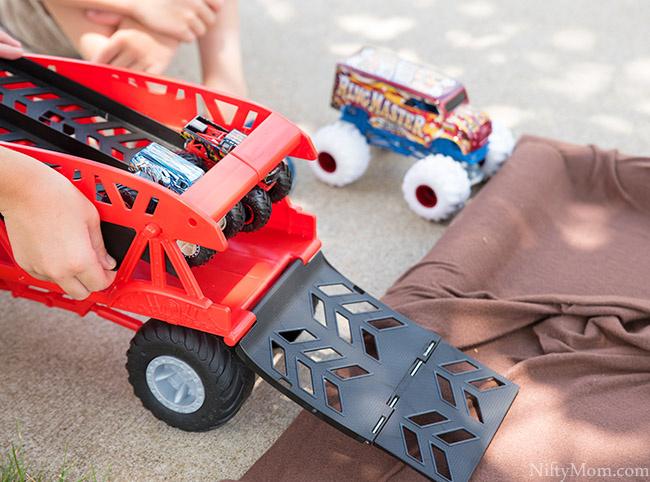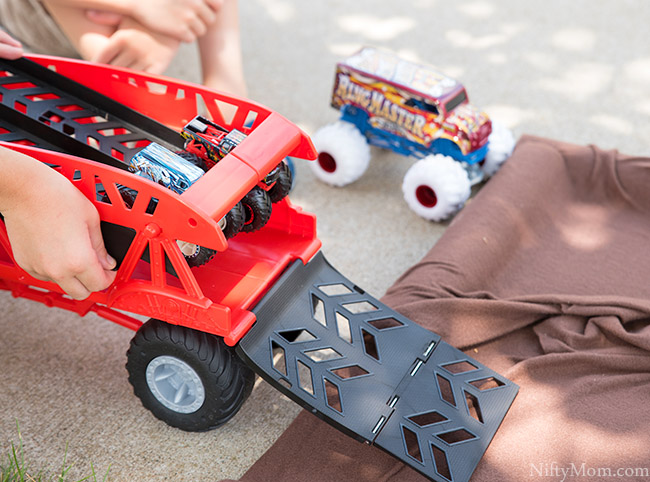 We backed up the Hot Wheels Monster Trucks Monster Mover to our arena entrance and launched Monster Trucks into the play area. The large-scale transporter can store up to 12 trucks, as well as tackle obstacles.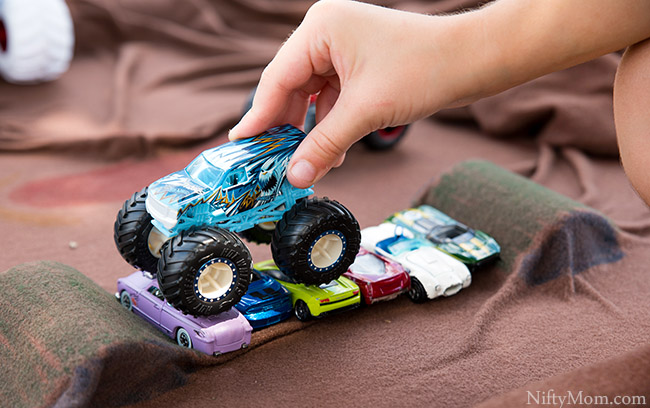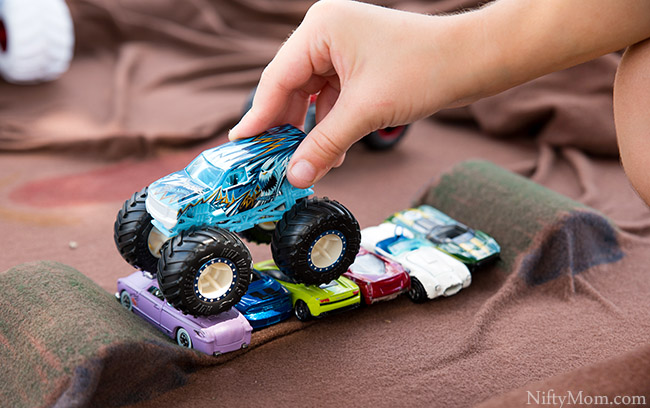 The kids crash their Monster Trucks through the car jump, into each other with the help of the Demolition Doubles Trucks and the Monster Trucks that can be revved up before going.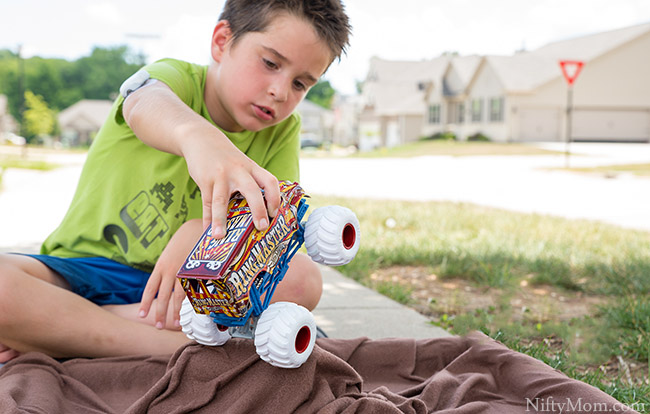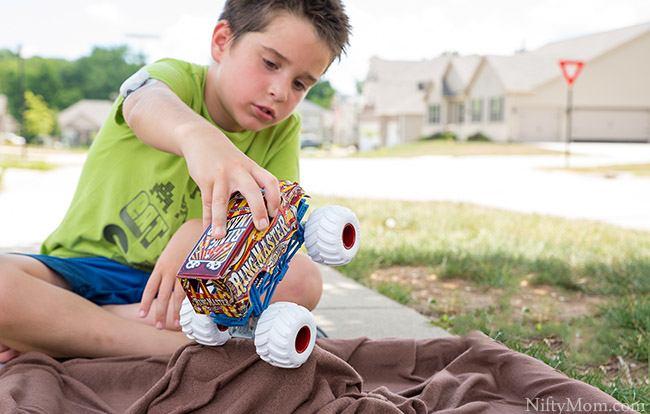 The first day we made the arena, the kids played with it literally all day long. When it got a little too hot outside, they carried the arena inside to continue the fun. They didn't even ask to play on their tablets or on video games the day. I was shocked and excited to see their imaginations going wild.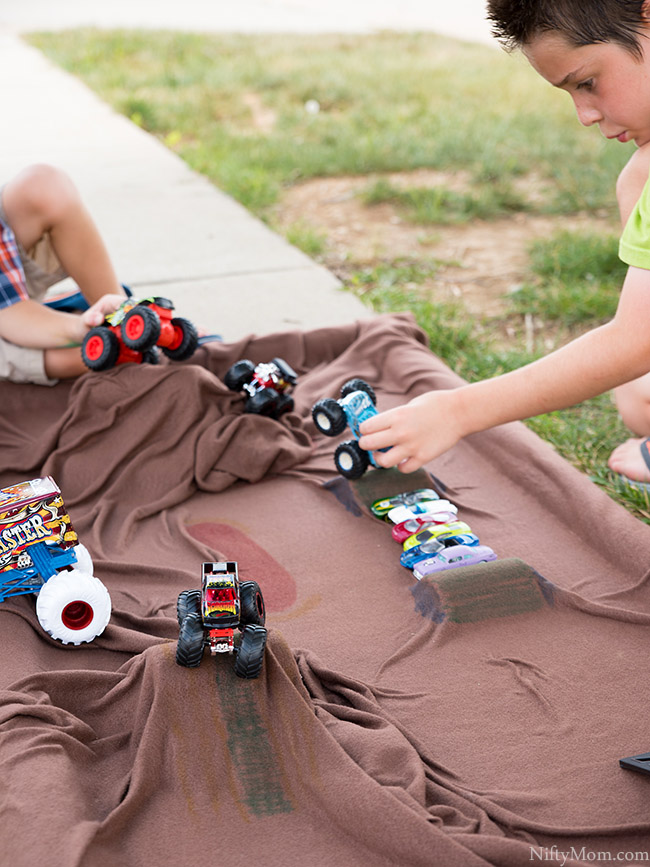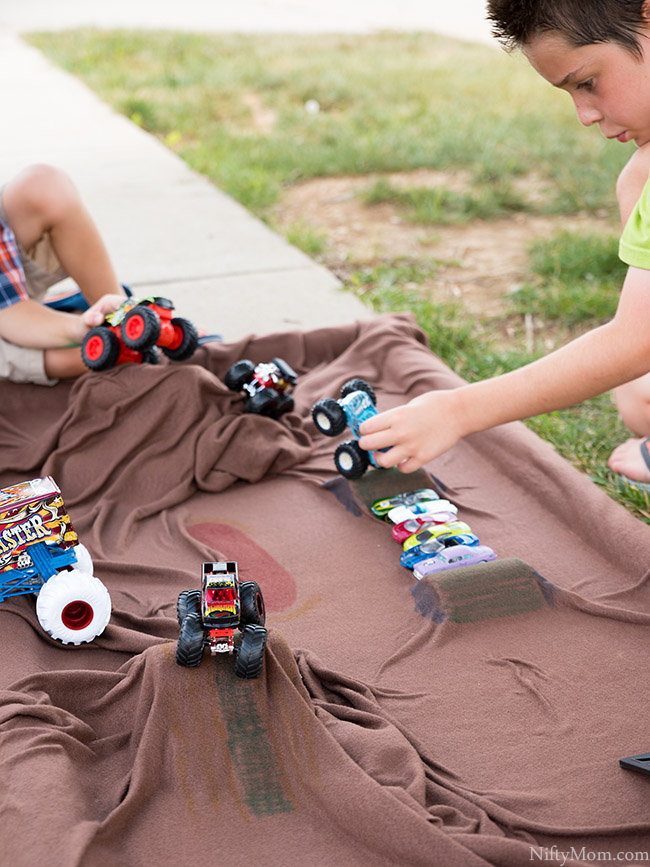 Once they were done smashing and crashing, the Monster Trucks are loaded back onto the Monster Mover.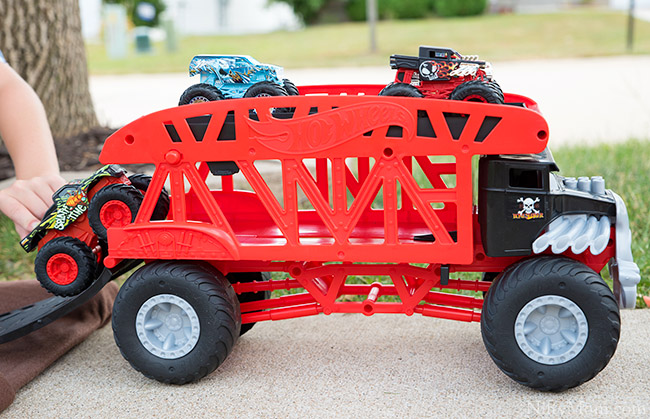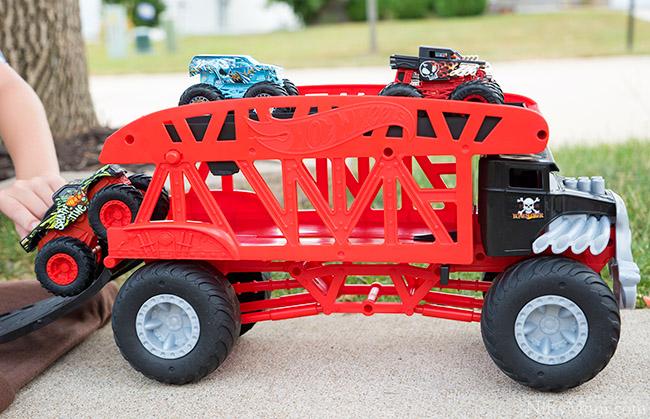 A whole line of Hot Wheels Monster Trucks can be found at Walmart in store (in the toy section) or online here.